About Us
How it all began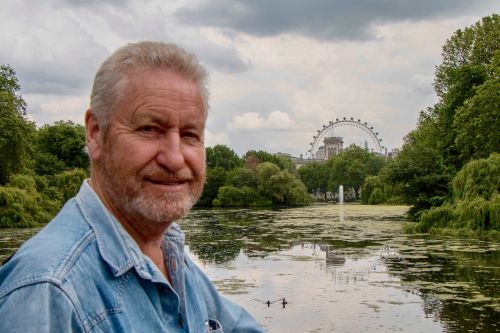 The Aston Defibrillator fund was established in 2019 in memory of Keith Aston, a local campaigner and CPR champion, who dedicated the last nine years of his life to teaching CPR and raising awareness of the vital role community defibrillators can play in a successful resuscitation.
Keith was inspired to do this after he suffered a cardiac arrest in September 2009, and his life was saved by a passing motorist who gave him CPR until the emergency services arrived. He made a full recovery and from that day, dedicated his time and energy to paying his second chance at life forward. He tracked down the motorist, Joanna Michaelides, and together they set up a training scheme to teach CPR in their local community. Since 2010, over 1000 people have been trained, some of whom have gone on to save lives themselves.
Keithís passion and mission included promoting the use of defibrillators and he established a steering group to look at providing these life-saving machines in his local area. The number of public access defibrillators in Farnham grew from 2 to 16 and he formed a steering group in partnership with the town council. His dedication, enthusiasm and commitment were inspirational. Sadly, Keith died from a stroke in June 2018, while out riding his beloved bike. The ADF was established in his honour, to continue the incredible work he did in the community, with the primary aim to focus on the provision, placement and maintenance of defibrillators in Farnham and surrounding areas. So far over £11,000 has been pledged to the fund, so the fund is already starting to upgrade some of the older existing defibrillators.
If you are in any way worried about a person checking defibrillators around town a list of our volunteers is below. These volunteers have all been trained on the simple checks to ensure the equipment is ready for use by any member of the public:
| | | | | |
| --- | --- | --- | --- | --- |
| Alan Jones | Dick Bridger | Ian Crowe | Jim Lawson | Joanna Michaelides |
| Mike Bassett | Peter Glover | Phil Williams | Ray Brown | Tania Barella |
| Tom Quinn | | | | |
ADF Founders & Trustees
| | |
| --- | --- |
| ďI was the passing motorist who gave CPR to Keith in 2009. That simple action on an unremarkable, until then, afternoon in September has entirely changed the course of my life, completely for the better. As well as establishing Heartstart Farnham Lions with Keith to train people in CPR, I have also changed my career and now teach first aid for St John Ambulance and I am starting training with the ambulance service as a community first responder. I have seen first-hand what a difference knowing some simple skills and using a defibrillator can make. Itís an honour to be a trustee of the ADF and to be a small part of continuing Keithís amazing legacy." | Jo Michaelides |
| "I attended a Heartstart course in 2011 as I felt I should know these simple skills. I became aware after a few months that I had not retained much and was delighted when I was welcomed back to a second course. It was then thats the skills became clear in my mind. Keith Astons' saying of 'Don't be a bystander' really resonated with me so I committed to become a trainer and to help others gain these simple skills. But even with the best training in the world, you really need the right equipment to maximise the chance of full recovery from a cardiac arrest - so I committed to try to do all I can to get the defibrillators in place in Farnham, our local community and make sure they are maintained well. I hope by doing so we will encourage others not to be bystanders, but to gain the skills and get involved with us. There is nothing more powerful and rewarding to know you have contributed to saving someones life." | Keith Harris |
| "Iíve worked in cardiac care for over three decades, running a hospital cardiac care unit, leading a Department of Health team on heart disease policy, and as a consultant cardiac nurse and regional head of heart & stroke in an ambulance service. Iíve seen first hand, countless times, how rapid defibrillation can make a real difference for cardiac arrest patients. I now undertake research in cardiac arrest and other acute cardiac problems, and have international roles in research and education. I volunteer as clinical director of HeartStart Farnham Lions. I now want to help save lives in our local community." | Prof Tom Quinn FRCN FESC FAHA FACC |