NEWS
24th Feb 2020: Delighted today to have attended the launch of three more public access defibrillators (PAD) in Farnham. All three were funded by the staff of Abbeyfield Wey Valley Care homes hard work, with donations from St Andrews Lodge, the 1st Farnham Girls Brigade and the ADF. ICS property services kindly installed all three without charge. Also we would say a huge thanks to all at Abbeyfield Wey Valley and all the businesses that supported their raffles, car washes and many more activity days to raise the funds. All the defibrillators are positioned on the outside of the three Abbeyfield homes in Farnham giving full 24/7 access to the community. Well done Abbeyfield Wey Valley.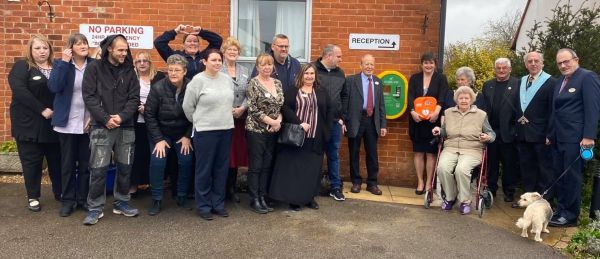 16 Feb 2020 - The second defibrillator funded by The Alfred Pub and their charity quiz night in the autumn of 2019 has now been installed outside the school entrance at Folly Hill School on Coniston Drive.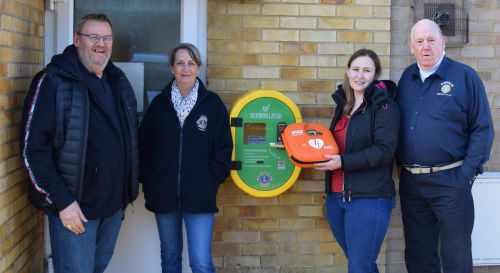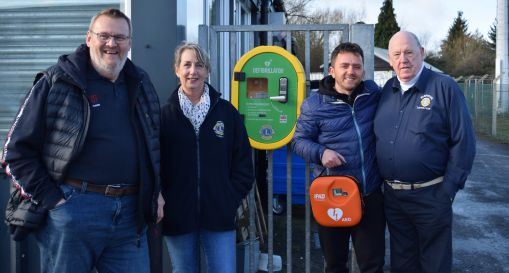 Feb 2020 - Yet more new defibrillators in and around Farnham. Our thanks to A&D Car Wash staff and customers who raised funds and with help from Farnham Lions we installed a new PAD to the right of their main entrance. And also to the lions for a generous donation to the Weydon Christain Centre who agreed to install a new defib on their hall in Upper Way.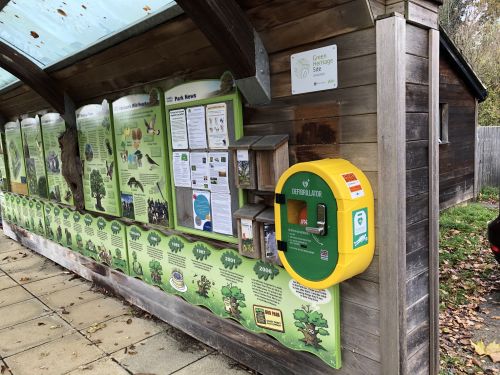 We are delighted to confirm the new defibrillator funded by T Baker of Wrecclesham has now been installed outside the Rangers office at the entrance to Farnham Park, opposite the cricket ground. We are hgrateful not only to T Baker but also for the assistanvce from Waverkey Borough Council, the Friends of Farnham Park and members of the sports council who initiated the appeal with the Farnham Herald. A perfect example of the real community project that this needs to be.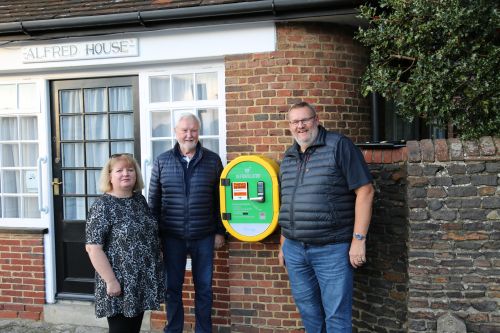 After the appeal in the Farnham Herald just a few weeks ago, we are delighted to announce the new defibrillator was funded by the Dempster Trust and has alraedy been installed at 1 Waverley Lane, right by Farnham Station. Pictured are Jpn Curtis, Chairman on the Dempster Trust, Marion Parnell from Hones Business Park and keith harris, one of the ADF Trustees. We are very grateful to the Demptsre Trust for stepping up to fund this new installation and helping to support the local; community with this life saving piece of equipment.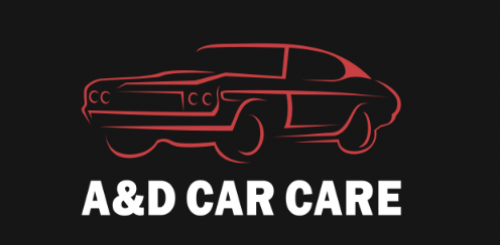 A & D Car Care: We are delighted to announce that A&D Car Care, on the Guildford Trading Estate, are supporting our initative. They are trying to raise enough for two new defibrillators before Xmas. What a great present for our community. Thanks to the team at A&D Car Care - please go along, get your car washed and help them achieve their objective. Great prize draw and great prizes on offer - please help them to help save lives. www.adcarcare.co.uk
S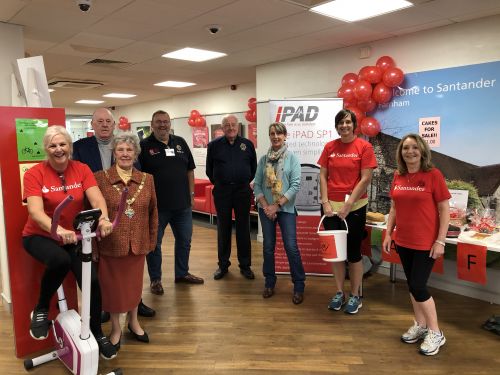 antander held a fundraiing Day on Monday 4th November.
With both a magificent cake sale and a cyclathon, they raised almost £5600 on the day and with more planned another new PAD is well underway for Farnham. Out thanks go to Tania Berella and her team who did a fantastic job, especially all those doing 20 plus mile son the bike in their turn. Well done and its not too late - if you would like to support the Santander team, please pop in to the branch and show your support.
Abbeyfield WeyValley Society

.... are organising events to raise funds for defibrillators in all six of their homes in Farnham, Guildford and Haslemere; three are in Farnham. Watch out for details of their fundraising events, but in the meantime why not help them get started with their donation page at:
https://uk.virginmoneygiving.com/
Abbeyfield have are progressing very well with their fund raising event schedule, just the Xmas Market to go now :
Saturday 2nd November – Held a Car wash on Ridgway Court forecourt with a tea, coffee and cake stall
Friday 15th November - Hatch Mill Quiz night with supper. BYO drink!
Saturday 16th November – Tombola stall at Farnham Town Council Christmas Light switch on in Gostrey Meadow, Farnham
Sunday 8th December – Tombola stall at Farnham Town Council Christmas Market in Bush Courtyard, Farnham